Potenay B12 Injection presents in its formula a vitamin complex that stimulates nutrition, associated with a substance with hypertensive action that aims at the quick recovery of animals.
Formula:
Every 100ml of solution contains:
Mephentermine Sulfate ………………………………………….. 600mg
Vitamin B2 …………………………………………….. ………………….. 200mg
Vitamin B6 …………………………………………….. ………………….500.0 mg
Nicotinamide …………………………………………….. ……….. 10,000mg
Calcium pantothenate ……………………………………….. ….. 500mg
Vehicle eq………………………………………………. ……………….. 100mL
Action:
Mephentermine Sulfate: Hypertensive. It raises blood pressure, improving circulation and breathing.
Vitamin B2: Forms part of the cellular redox system. It favors growth and prevents nervous system anomalies.
Vitamin B6: Essential for the nervous system and for hematopoiesis, microcytic and hypochromic anemia refractory to iron.
Nicotinamide: Cures stomatitis, gingivitis, glossitis and angina.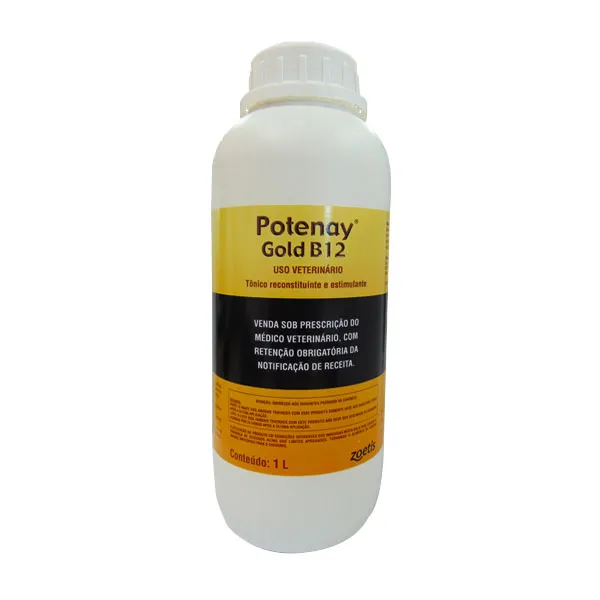 Indications:
Potenay B12 Injection can be used on animals even when the specific primary cause has not been identified. Lack of appetite, weakness, fatigue, stress, fatigue, anemia, malnutrition, convalescence from infectious and parasitic diseases. As a restorative and stimulating tonic during periods of pregnancy and lactation.
To increase muscle tone and stimulate the circulatory system, especially after handling animals, vaccinations, treatments, etc., as well as increasing the energy efficiency of animals in sporting activities.
At the time of coverage, as a tonic.
Posology and How to Use:
Dogs and cats: Administer intramuscularly, at a dose of 1 to 2 ml for every 10 kg.
Cattle, horses, pigs, sheep and goats: Administer intramuscularly, at a dose of 1 to 2 ml for every 25 kg of weight.
Specific recommendations for the use of Potenay B12 Injection can be made at the discretion of the veterinarian.