Description
Canine Choice Adult Medium is a complete grain-free dry food for medium-sized dogs between 11 and 25 kg. It has a high proportion of meat (60%).
Medium-sized breeds are known for their energy and playful temperament, so they need food that provides them with plenty of energy and high-quality protein to maintain their muscles. With Canine Choice that's what's on the menu: 60% chicken, salmon or lamb (mostly as fresh meat), plus sweet potatoes, which provide energy and dietary fibre. It also contains vegetables and natural plant compounds to support good health.
Product benefits
60% meat
Energy content adjusted to the metabolism of medium-sized dog breeds between 11 and 25 kg
Cranberry, rosemary and rosehip to support the immune system
Prebiotics, probiotics, chicory and camomile to improve digestion and relieve irritation
Parsley for fresh breath
Sweet potato and peas to provide valuable fibre and vitamins
Glucosamine and chondroitin for healthy joints
Omega 3 & 6 fatty acids and minerals to promote a shiny coat and healthy skin
Yucca schidigera to reduce unpleasant stool odor
A grain-free formula
No soy, artificial colours or preservatives
The gentle cooking process preserves all important nutrients
The bag has a resealable zip to keep the food fresh longer
Ingredients
We care about what goes into your dog's tum: Andrew and us on the Canine Choice team put loads of thought, care and expertise into the ingredients so they're worth a read!
Composition:
Fresh chicken (38%), Dehydrated chicken (17.5%), Sweet potato (17%), Peas (7.5%), Apple pulp (5.5%), Hydrolyzed chicken liver (5%), Dehydrated carrot (0.32% equivalent to 3% carrots), Dehydrated cranberry (0.8% equivalent to 0.75% cranberries), Chicken fat,  Brewer's yeast, Fish oil, Minerals, Chicory (Source of FOS), Mannan-oligosaccharides (MOS), Camomile, Parsley, Rosehips, Sea algae, Rosemary, Cloves, Glucosamine (300 mg/kg), Cartilage (a source of Chondroitin 200 mg/kg), Yucca schidigera.
Analytical constituents:
Crude protein 28%, Crude oils and fats 17%, Crude ash 7%, Crude fibres 3.25%, Fatty acids (Omega 3) 3.2%, Calcium 1.40%, Phosphorus 1%, Fatty acids (Omega 3) 0.4%, Metabolizable energy 3850 kcal/kg.
Nutritional additives:
Vitamin A 19.000 IU/kg, Vitamin D3 1.700 IU/kg, Vitamin E 500 mg/kg, Vitamin C 250 mg/kg, Zinc (Zinc oxide) 108 mg/kg, Iron (Ferrous sulphate, monohydrate) 68 mg/kg,  Copper (Cupric sulphate, pentahydrate) 9 mg/kg, Manganese (Manganous sulphate, monohydrate) 7 mg/kg, Iodine (Potassium iodide) 3.2 mg/kg, Selenium (sodium selenite) 0,11 mg/kg.
Zootechnical additives: 
Bacillus subtilis C-3102 (DSM 15544) 1 x 1,000,000,000 CFU/kg (Probiotic).
Technological additives:
Antioxidants: Tocopherol extracts of vegetable oils (135 mg/kg).
Feeding Guide
If this is the first time you're feeding your dog Canine Choice it's easy to switch from their current food over the course of a few days. Start of by replacing 25% of their existing food with this one, then increase the amount of the new food by 25% every other day until they've fully made the switch.
And one last thing – we know a feeding table isn't the most exciting thing to study, but please do take care to read it, as your puppy is likely to need a different amount of Canine Choice per day than their previous diet (as it's so full of goodness and energy per gram). As with any diet change, it's good to keep an eye your pet's weight.  
Recommended quantity (g/day)
Weight of the dog (kg)
10
14
18
20
25
Low activity
135
175
215
230
270
Moderate activity
160
205
245
265
315
Intense activity
195
250
300
330
385
Always make sure your furry friend has accesss to plenty of water.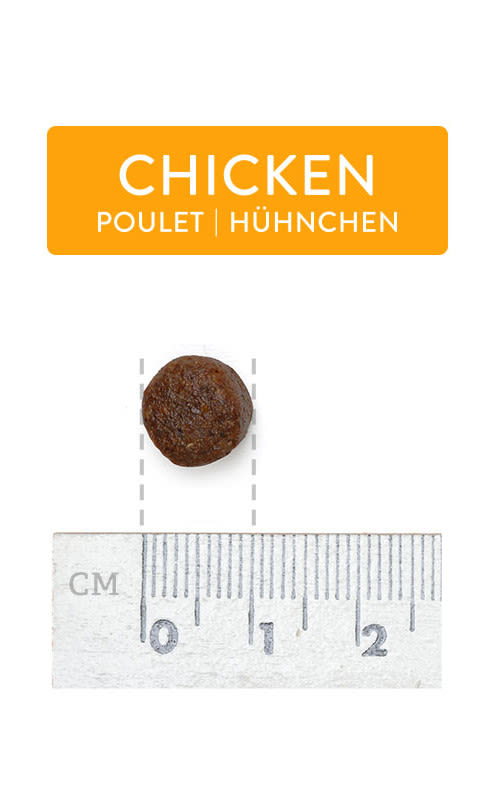 We are brimming with pride that our new Adult Medium Food has been given a nutritional rating of 91% by the trusted,
impartial dog food rating site All About Dog Food. Click here to learn more.