Description
Canine Choice Puppy Large is a complete grain-free dry food for puppies of large breeds (adult weight over 25 kg). It has a high proportion of meat (60%).
The recipe for large puppies has fewer calories than our recipe for smaller puppies. It promotes a healthy weight while supporting bone and joint growth. Canine Choice Puppy Large can be fed from 6 weeks of age through to 18 months.
For puppies that are only weeks old, we recommend soaking the kibble in lukewarm water.
Product benefits
60% meat
Energy content adjusted to the metabolism of large-sized puppy breeds (adult weight from 25 kg upwards)
Cranberry, rosemary and rosehip to support the immune system
Prebiotics, probiotics, chicory and camomile to improve digestion and relieve irritation
Parsley for fresh breath
Sweet potato and peas to provide valuable fibre and vitamins
Glucosamine and chondroitin for healthy joints
Omega 3 & 6 fatty acids and minerals to promote a shiny coat and healthy skin
Yucca schidigera to reduce unpleasant stool odor
A grain-free formula
No soy, artificial colours or preservatives
The gentle cooking process preserves all important nutrients
The bag has a resealable zip to keep the food fresh longer
"If you want something done right, do it yourself"– words our resident vet, Andrew, really took to heart when he'd had enough of substandard dog food and created Canine Choice. Dogs don't need cheap fillers and allergens like beef, wheat and soya – they need a meat-rich, high-quality, balanced diet, and pet parents need to know they're getting the best possible value for their money.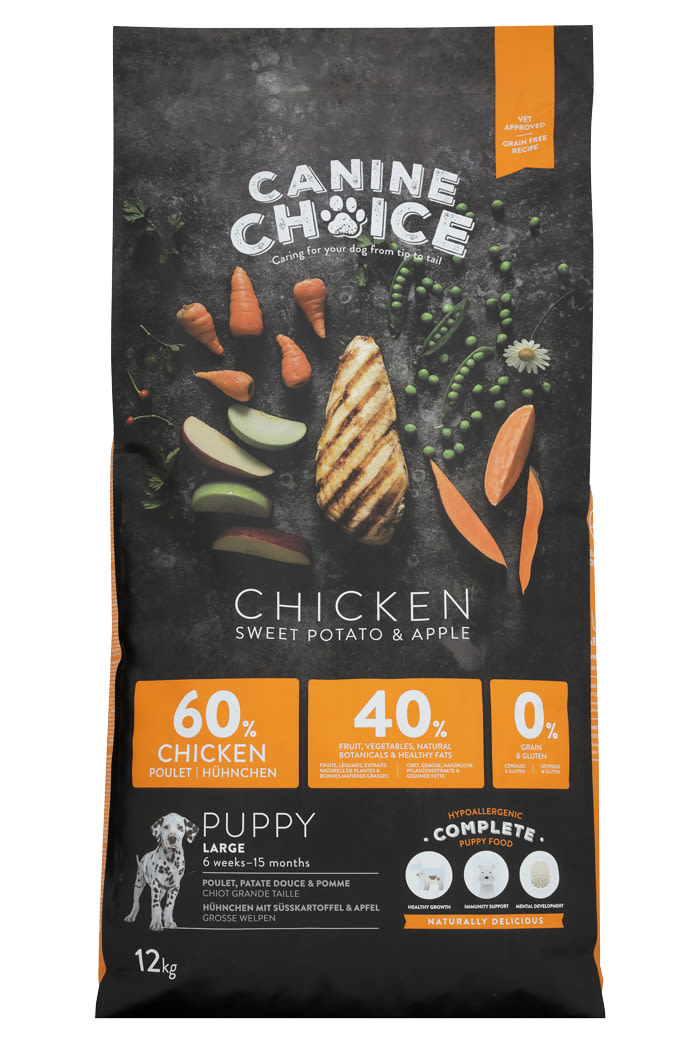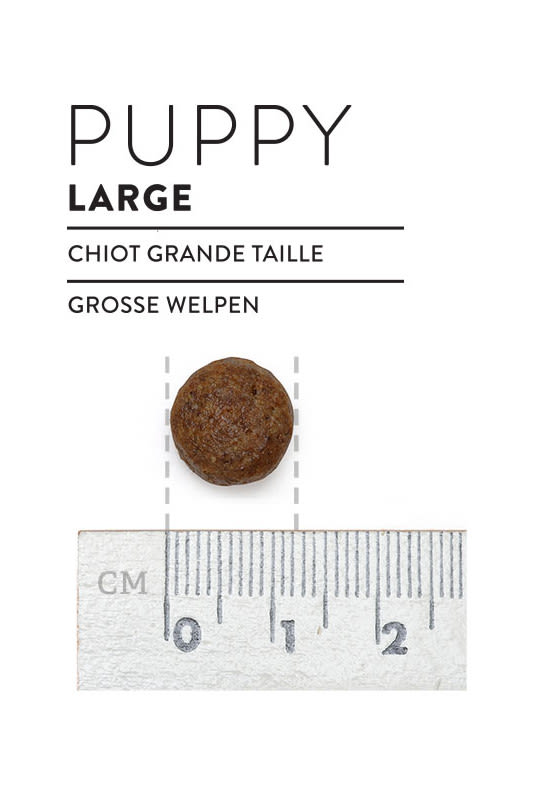 We are brimming with pride that our new Puppy Large Food has been rated 4.8 out of 5 by the trusted,
impartial dog food rating site All About Dog Food. Click here to learn more.